I bought my ProFlex 957 in December 1996. At the time, I was living in Wellington, New Zealand, and I was visiting Maureen in Santa Barbara, California, USA. The bike has been great. It's been to Moab a few times. It's done trails all over New Zealand, and around Ottawa, Canada, and more recently, Southern Florida, USA. It's always been a great bike.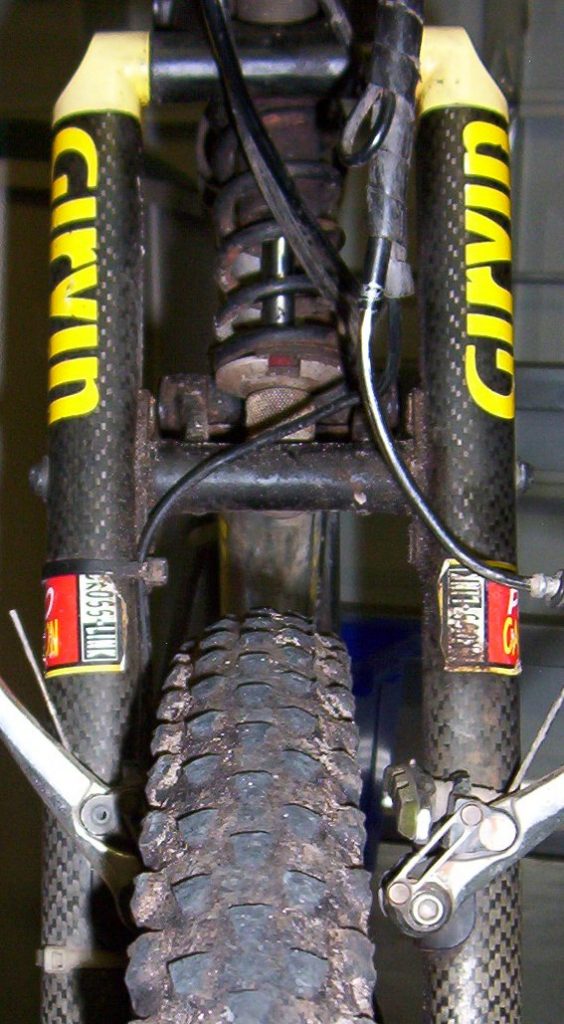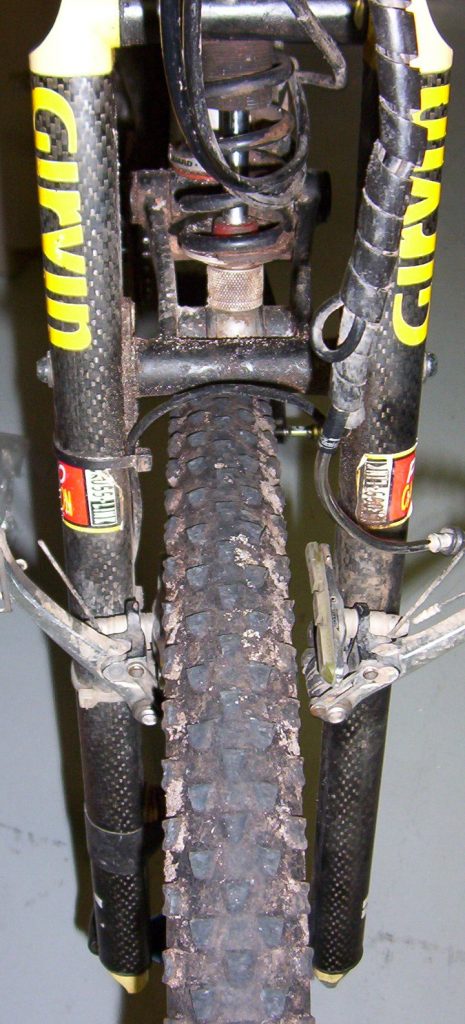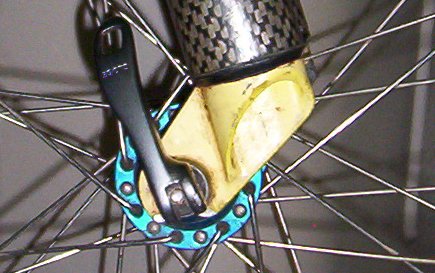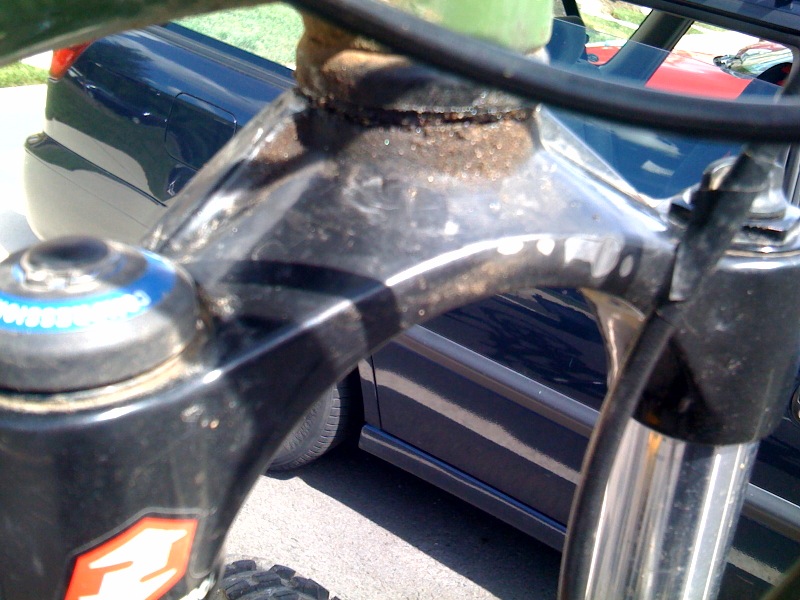 I think the end of life has arrived. Yesterday, as I was about to head out to the trails at Pinehurst. I found a problem…
As I put my front wheel into the forks, I realised the wheel was not sitting straight. I loosened the quick release, reseated the axle, and tightened the quick release. It was still crooked. In the image to the left, you can see how much the wheel was sitting off-center.
My first thought was wrong. The wheel was correctly seated in the drop outs. My next thought, the wheel was crooked. Spinning the wheel demonstrated it was true. Perhaps the wheel is off-centre. I reversed the wheel in the drop outs. It was still off-centre. I was stumped.
I started looking at the forks. Then I found it…. one of the drop-outs was did not look the same as the others. It seems that the drop out has receeded into the fork leg. I don't think it's safe to continue using these forks. It was about this time that I resolved myself to buying a new bike. Yes, I could get a replacement fork, but the bike is 11 years old. I have been waiting to buy a new bike… but didn't want to purchase when this bike was performing so well.
Back to the ride… I borrowed a bike (hard tail) from Lynne and we headed out to the trails. It tooks us about 30 minutes to cycle there. And about 20 minutes for my seat to fail. I went over a log, and being used to suspension, I didn't stand up on the pedals. I bent the rails on my seat.
I heard a sound, and thought the seat had moved. All I knew was it was pointing slightly upwards, and it was not comfortable. I started adjusting the seat, and eventually noticed the bent rails. Ouch. Well, time to buy a new seat…
The 957 has a nice Chris King rear hub… sadly, it is not disc-compatible. I think I'll move it over to my Avanti. The front hub too. The seat-tube is still good. The handlebards are OK. As are the cranks. But apart from that, I think I need everything brand new.
What do I want? Probably an aluminum frame. Definitely discs front and rear. And full suspension. I'm 6ft and about 230 lbs. I'm told I'm very light on my bike (i.e. I don't pound it into the ground).
What bike would you recommend?