The time has come for me to move from shelving to racks. My first thought was to list the various racks over the years. Look below for old photos and links to the posts I lifted them from.
Why a rack?
In the past, I have always built my own servers, computers, from parts. I always chose tower cases for space and quiet. A large fan and heatsink can be easily mounted in a big tower case. I never bought rack mount cases because I never had a rack.
I recently changed my view and decided to get a rack after two new recent acquisitions:
A rack mountable KVM
A rack mountable UPS
Combined with my existing rack mountable gear:
Digital DLT MiniLibrary (DLT 7000 tape library, 10 tape magazine)
Compaq StorageWorks MSL5026 Library (SDLT tape library, 25 tape magazine)
PowerVault TL4000 (LTO4 tape library with 48 tape magazine)
2 x PowerEdge R410
48 port switch
Cisco 881W
That's about 40U of gear (roughly, I have not counted, it might be only 20U though). That's half a rack.
What about the tower cases?
I plan to convert my two tower cases to rack mountable units. I'll buy a 4U and and a 3U. The ones I have in mind are:
IPC-ML4U20-MSAS – 4U 19″ 20 Hot-Swappable SATA / SAS Drive Trays for knew
IPC-ML3U16-MSAS – 3U 19″ 16 x SATA / SAS HDD Trays for slocum
I can move all the parts from the existing cases to the new cases without buying anything other than the cases. I'll also have plenty of room should I wish to add more drives.
The ugly box
There is one box I have which is monstrous. You can see it in the photos below from 2016. That will not be converted. I'll have to get a shelf for the rack, or I could put it straight on the floor. It does have casters.
Timeframe
I do not have a rack yet, but I plan to get one. I think I should convert the two systems first, and then get the rack.
I might get started on the tower case conversions by late September or early October.
2003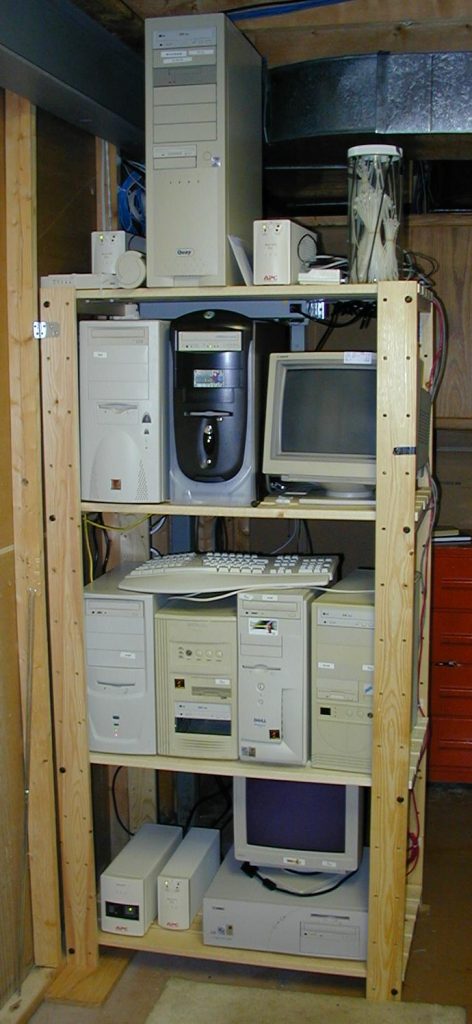 This is IKEA shelving and I found that photo on The FreeBSD Diary
2006

Same IKEA Shelving, different gear
bottom half

Same IKEA Shelving, different gear
top half
I found these photos in a post from 2006 when I was moving the rack from one part of the basement to another.
You will recognize some gear present from both years.
2016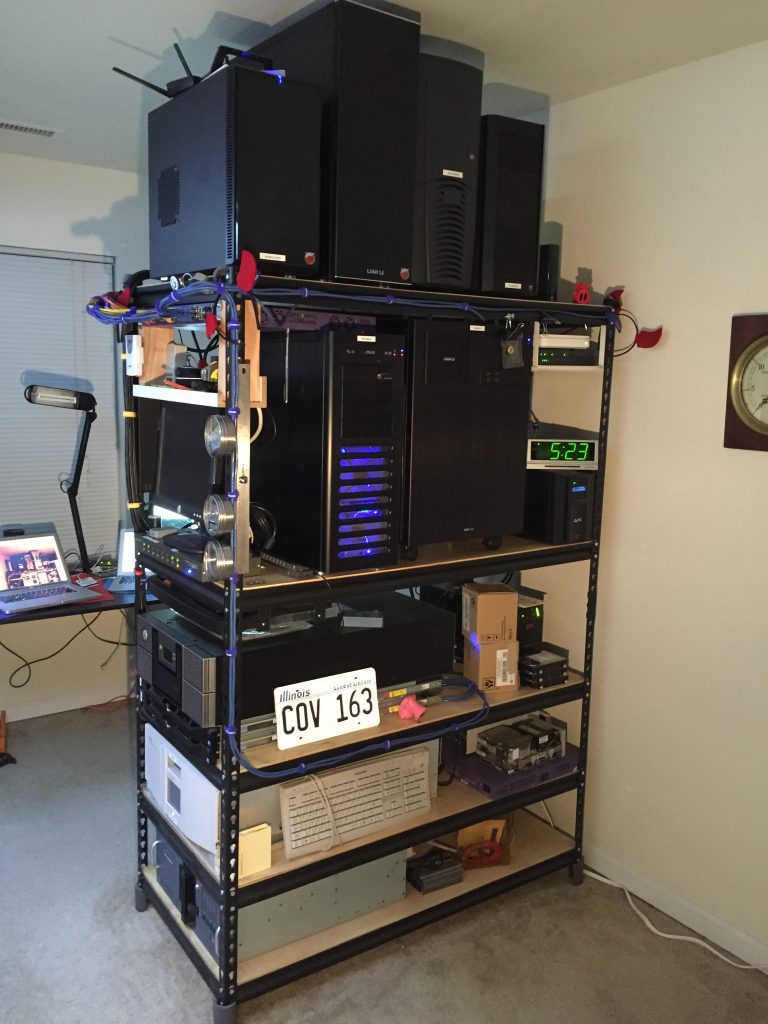 I have had these shelves since early 2013, but this photo is from 2016. In this post, you can read details of these Home Depot shelves.